Entrance
The entrance hall welcomes guests with the serenity of traditional Japanese temples and gardens, which allows visitors to experience the atmosphere of Kyoto. The combination of ceramic tiles spread across the floor, moss growing in the garden, along with a portrait of the Thunder and Wind Gods set in a jet-black background, imitates a quiet temple atmosphere. Please enjoy your stay in this one-of-a-kind accommodation that embodies the serenity of Kyoto.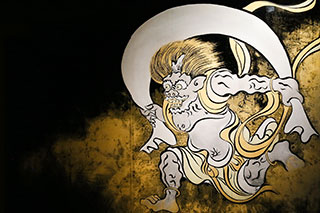 Fujin Raijin Portrait
(Thunder and Wind Gods)
Made by Kyoto's long-established gold-leaf shop, "Hori Kinpaku," especially for Gekkou-an, the piece is based on Ogata Kōrin's "Fujin Raijin" (Portrait of Thunder and Wind Gods). The portrait is made using only gold, silver and platinum on a black lacquer board.
Oribe Ware Ceramic Tiles
Made by a Kyoto ceramic artisan, Hirono Toshihiko, these tiles are created through a process of repeated glazing and firing to affix the tiles' vivid colors. The tiles are reminiscent of tea and moss, which are symbols of Kyoto. The tiles make one feel as if they are walking through a moss garden.
Japanese Style Room
In the Japanese style room where one can see the Tsubo garden, there is a horigotatsu for use (a heated, Japanese table with leg room added below the floor level). The ranma (an openwork screen) created from one piece of wood depicting cranes and pines, wishes each and every guest good luck for the stay.
Bedroom
The bedroom is equipped with a walk-in closet and study.
For a comfortable night's sleep, we have prepared two Sealy double beds.
Enjoy the world-renowned beds that constantly strives for state-of-the-art comfort in sleep.
We use comforters from "Kyoto Lakuchu Takaokaya," one of the best beddings available.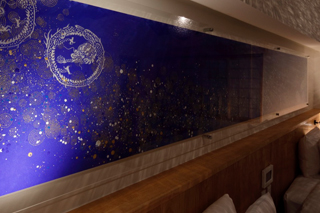 Moon and Mizuha
Works made by Mr. Toto Akihiko from the Karachō shop established 400 years ago, a traditional Kyoto paper-crafts store, decorates the space.
Made in the same form as 400 years ago, the new moon that is said to represent the beginning of things along with the dragon and its child are made from a technique called shifuku.
This work that wishes good luck for each visitor, is made in a dark blue color that invites guests for a comfortable sleep.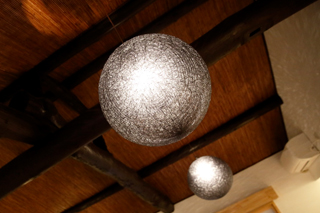 Lighting - Curtain
The lighting and curtains can be centrally controlled from the bedside for easy use. The curtain can be set to rise at a preset time, which can facilitate waking up via natural light.
Bathroom
Upon opening the door, the semi-open-air bathroom connects directly to the garden. Regardless of the season, it invites guests to an experience of superb healing.
The bathtub is prepared from Shigaraki ware, which warms the body core with a far-infrared ray effect.
At the sides of the bathtub, there is a pedestal made of Shigaraki ware tiles.
The lighting that illuminates the tub basin reflects waters' movements on the ceiling, inviting guests to a unique healing experience.
FACILITY
Powder Room

With a big sink and mirror, convenient for makeup, the powder room is also supplied with the renowned Imabari towels.
Please enjoy the towels' soft feel and effective absorbency.

Laundry

There is a laundry space next to the Japanese style room.
It is equipped with fully automatic washers and dryers.

Amenities

WHisada Art Industry is a salon established in Kyoto with an over 120 year old history. Through carefully selecting only necessary ingredients and meticulous adjustments, they worked to create a shampoo that achieves the "optimal washing feeling," deemed of upmost importance based on customer feedback and wisdom garnered over the years. Enjoy a natural finish created by adjusting cleansing ingredients as much as possible, without resorting to shortcuts such as oil or silicone formulas.

Toilet

We especially value washroom cleanliness and comfortability. This toilet bowl is equipped with an electronic bidet.

Espresso Machine

Made from vacuum-sealed capsules packed immediately after grinding, the coffee is fresh right until it is brewed.
Security
Card Key
Room
Free Wi-Fi, TV, Vacuum cleaner, Washing machine, Tea set
Kitchen
Espresso Machine,、Electric kettle, Refrigerator, Coffee, Tea, Japanese tea, Tableware
Bathroom
・
powder room
・
and toilet
Hair dryer, Shampoo, Conditioner, Body soap, Soap, Bath agent, Toothbrush,
Toothpaste, Mouthwash, Shaving kit, Shower cap, Cotton & Swab, Sewing Set,
Bath towel, Face towel, Hand towel, Oil blotting paper, Washer toilet
Kyoto Ryokan Gekkouan
×
Kyoto Long-Established Restaurants Ryōtei
Please enjoy the kaiseki and shōjin meals from Kyoto's long-established restaurants in a private space.
Please enjoy the feeling of Kyoto through all of your five senses.
Breakfast
up to 2,500 JPY per person (tax included)
Dinner
Sushi Kaiseki 10,000 JPY (tax included)

Kyoto Kaiseki 10,000 JPY (tax included)

Mini Kaiseki 12,000 JPY (tax included)
* Photo is only a sample.
The meal contents may be changed by season.
Reservation is necessary before 3 days in advance.
Dinner and Breakfast are not available booking between December 28th to January 5th.
Accommodation Fee

(Up to 2 People)

55,000 JPY ~/ 1 Room
* tax included
* Consumption tax is included, however accommodation tax will be charged in addition to the above price.
* Rate varies according to the date and the season.
* This ryokan accommodates up to two people.